Florian Salmer - Drums + Vocals1 Klaus Unger - Bass + Vocals 2 Thomas Trausmuth - Guitar
Burgenland
Profi Artist
Zur Homepage
Lass mal hören!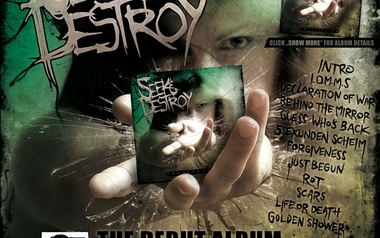 17.03. TBA, Mattersburg (Bgld,A)
21.04. Moshroom vol.4 (Bgld,A)
22.06. Rock auf der Burg, (Bgld,A)
23.08. with FIRST BLOOD , Aera Wien (Vienna,A)
31.08. Club Wakuum (Graz,A)
08.09. Ria Nepo - St. Margarethen
29.09. Set your Scene on Fire pt.2, Szene Wien (vienna,A)

2005 gewannen wir den AIW Contest in Austria
Supportshows : Dog eat Dog (Us), Caliban (Ger) Heaven shall Burn (ger)
Emil Bulls (Ger) Behemoth (Pol) Insane (Hu) First Blood (us)
2008 Ostrock Trophy (Bandwettbewerb) 2 Platz
2011 Finale in Grazer Bandwettbewerb
2011 Novarock Blue Stage mit : Iron Maiden, System of a down, Bring me the Horizon,
Diskografie
01.

3:49 Min
02.

4:43 Min
5321
mal aufgerufen
173:11:02
Stunden angehört
9507
mal angehört
Account melden