Robert Goldbach
Berlin
MOM-Star
Zur Homepage
Lass mal hören!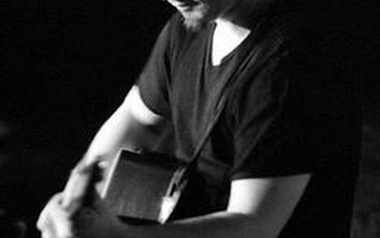 Ich bin
30, hab schon viele viele Bands und gescheiterte Versuche, ein bisschen was mit der Musik zu reißen, hinter mir. Mit Sand.IG veröffentlichte ich 2005 das Album "Waren des täglichen Bedarfs", das es immer noch zu kaufen gibt:
http://tinyurl.com/2qmh6h
aber letztlich hat es sich nicht verkauft (ich finde es aber immer noch großartig).
Nun verdien ich schließlich mein Geld anderweitig und komm nur noch abends ab und zu (soweit mich meine kleine Tochter noch dazu kommen lässt) ein wenig zum Musikmachen.
Ich benutze:
MacBook Pro mit Logic8, ab und zu noch Reason
Asus Laptop (Win XP), Samplitude Music Studio 17
M-Audio Fast Track Pro
Boss GT-10
Rode NT 3 Mikrophon
schlechte Computerboxen
Beyerdynamic DT 911 Kopfhörer
Stereoanlage
Bass (Marathon)
E Gitarren (Ibanez)
Akustikgitarre (Vester)
Ich liebe:
dEUS, Motorpsycho, The Weakerthans, Nada Surf, System Of A Down, Radiohead, The Notwist, Compulsion, Blonde Redhead, Zita Swoon, Cursive, Sonic Youth, Scumbucket, ...Trail Of Dead, Sparta, Scanners, Deftones, Blackmail, Elliott Smith, Queens Of The Stone Age, The Beatles, Portishead, Aereogramme, Cat Sun Flower, Tu Fawning, Elbow, At The Drive-In, Slut, My Latest Novel, Pearl Jam, Lali Puna, The Golden Dogs, New Model Army (bis 1998 zumindest), Soundgarden, Dead Man Ray, Tiger Lou, Daan, Millionaire, Primus, Kyuss, die Ärzte, Kings Of Leon, Pavement, Muse, Kashmir, Sport, Yo La Tengo, Kante, Smashing Pumpkins (bis "Adore"), Shellac, Soulwax, Malajube, Anthrax, Grandaddy, alles von Greg Dulli (Afghan Whigs, Gutter Twins!), .............. und und und.
Album: Current
Current
Kein Album, sondern die Müllhalde für aktuelle Songs.
Album: Use Your Disillusion
Use Your Disillusion
Two years in the making.

Die Download-Option zu den einzelnen Tracks ist deaktiviert. Nehmt doch gleich das ganze Paket, das ist ja auch schließlich ein Album:

http://www.megaupload.com/?d=MTAYGKYP

02.

3:32 Min
03.

5:11 Min
25824
mal aufgerufen
716:26:30
Stunden angehört
39074
mal angehört
Account melden