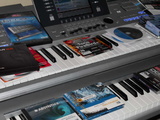 Lass mal hören!
Gästebuch

BrainStorm Operations
Juli 2008
Are you gonna like...give us more, please?

Dude...

Hook the world up with your vision. Take it to the people, they will be stunned. Only shooting stars break the mold.

Cheers, Dein Ami Jedi,
St0rm from BrainStorm Operations

the kiarsch
September 2005
unverhoft

...kommt oft...gelle!! ;-)

alles gute...du glücklicher!


The Extreme
Juli 2005
Noch kein Eintrag im Gästebuch ?

Na das wollen wir doch mal ändern :-)
Wünsche dir auf diesem Weg viel Erfolg mit deiner Musik.

Gruß Christian
The Extreme - Music for Space Travellers


Account melden