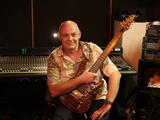 Lass mal hören!
Achim
Andere Stadt
MOM-Star
, Redakteur
Fotogalerie
MIndmovie - An Ocean Of Dreams
anschauen
MIndmovie - Happiness And Tears
anschauen
Studio
ein teil meines Studios
anschauen
My main Guitar
OHNE SIE WÄRE MEIN SOUND NICHT DER GLEICHE
anschauen
Meine Gitarren
Hier sind ein paar meiner Gitarren
anschauen
Mindmovie goes Hollywood
Ich bin ganz stolz darauf das mein Song "I Can't Be Sure But I think I Love You " für den Sountrack von
Mr. Washington Goes To Smith
ausgewählt wurde, Mindmovie , im Ambspann eines Hollywood movies !!!!
anschauen
Mindmovie - Frames Of TIme
Jef De Cortes Cover Artwork für mein neues Doppelalbum Mindmovie - Frames Of Time,
anschauen
Flaming Bess - Der gefallene Stern
ab 22.08. im Handel......
www.flaming-bess.de
anschauen
Account melden