Markus Engel
Berlin
Profi Artist
Zur Homepage
Lass mal hören!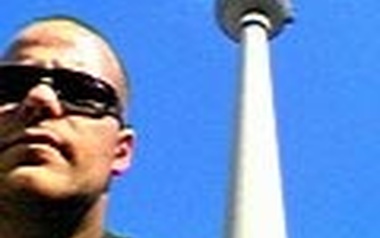 me@markusengel.net
www.markusengel.net
www.myspace.com/markusengel
www.myspace.com/greenstreetaudio
Born in the north of Germany in 1978, Markus grew up at the Baltic Sea.
Since he can remember, music was always the biggest thing in his live.
After dancing breakdance to hip house grooves he started djing in 1993.
After DJing many years at the north coast, doing own events with big name DJ´s , in small clubs and also some big festivals, he moved to Berlin, where he still lives and started working at ministry of sound rec.
In 2003, he started an education for event management in a private school in Berlin as a second profession.
At this time he started buying more synthesizers and studio gear on which he still spends a lot of time producing music and sound by using midi and electronics.
In 2006 he successfully completed an education as an electronic music producer at SAE College Berlin.
His bootleg rmx of Nelly Furtado´s "say it right" was supported by paul van dyk.
Martin Roth signed his "paradise now" rmx from DJ Eco for "Lunatique Records".
In 2007 markus was signed to Tyranno records and released the 3track ep "V.1", "story of your live" and "never again".
He also made rmxes for different artist like Valentino Kanzyani, Air One, M&M Bros, Lange, and others.
The message and melody in Music is essential for Markus.
green street records:
Founded in 2008 by electronic music producer Markus Engel.
After several single and remix releases on different labels like "Tyranno Rec, Lunatic Rec, and Firedance Rec", Markus now founded his own imprint Green Street Records.
Progressive and emotional House music from Berlin.
Markus Engel, born and raised at the Baltic Sea in northern Germany and residing in Berlin is no newcomer to the dance music scene.
After djing for more than 12 years and working for companies like Ministry of Sound Germany or RTL2 "the dome", in 2004 he decided to become one of the leading dance music producers. Since then he produced a decent number of records and remixes in his own studio. Using top notch equipment he worked hard to create his own melodic style and distinctive sound.
Markus also hosts his own radio show called "Green Street Audio", broadcasted every Saturday at German FM Radio Station Radio FDZ.
Green Street Records is the home platform for Markus' productions and will be used to release the tracks of some of his friends too.
Be prepared for surprises…
Diskografie
01.
4:23 Min
10195
mal aufgerufen
118:49:32
Stunden angehört
5135
mal angehört
Account melden