Deniz
Hessen
Advanced Artist
Zur Homepage
Lass mal hören!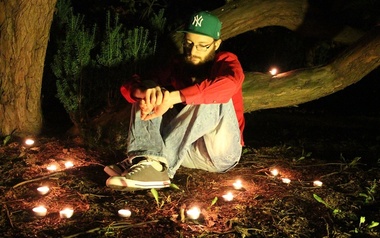 GERMAN/DEUTSCH
(The english version you find after the german intro)
(Yakında aşağıda bulabilirsiniz Türk versiyonu.)

Ja, auch wenn man ihm seine türkischen Wurzeln nicht auf den ersten Blick ansieht, ist der 1986 in München geborene Deniz Burger alias D-Nize zur Hälfte und aus tiefem Herzen mit der unverwechselbaren Mentalität verknüpft. Dies spiegelt sich nicht nur in seiner Musik wieder, auch privat ist der charmante junge Mann durch Liebenswertigkeit und Einfühlungsvermögen gesegnet.

Durch seinen Freund Steven begann D-Nize 2004 noch in München seine Person und wichtige lebensnahe Ereignisse sowie Thematiken in Texte auszudrücken, die sich nach einigen Versuchen in Song- und Raptexte umwandelten. Gerade in den Umschreibungen und Geschichten des Rappers ist ein tiefer Einblick ins Innere der Menschen herauszuhören. Zunächst noch anfänglich, entstand Anfang 2005 der erste fertig geschriebene Song. Angelehnt an den Stil des RnB wurde der Song "Mein Engelchen" mit dem Webcam-Mikro aufgenommen. Wie bei jedem Künstler zu Beginn seines Werdegangs, fehlte es vorab noch an der notwendigen Ausrüstung, auch weitere Gleichgesinnte zum erforschen und austauschen von Ideen und verbessern seiner Skills waren im näheren Umfeld nicht zu finden. Dies hielt D-Nize jedoch nicht davon ab, seine Inspiration sowie Elan zum Texten weiter auszuleben. Somit entstanden zunächst viele weitere kleine Stücke, die sich zu einer Sammlung an Songtexten zusammen fassten. Als 2008 jedoch ein Umzug nach Erlangen folgte, verflog leider auch jene zunächst nicht unterzukriegende Inspiration und die Musik wurde auf Eis gelegt. Erst drei Jahre später wird die Idee wieder aufgegriffen, seine Gedanken der letzten Zeit auf Papier zu sortieren. Im August 2011 entstehen die Songs "Teil von mir" (ein Lied über seinen Vater) und "An American Crime" in einer Rohfassung.

Zwei Jahre später erfuhr D-Nize durch die Trennung mit seiner langjährigen Freundin im August 2013 erneut eine lebensverändernde Situation. Daraufhin entstand der erste komplette Song "Zauber" noch in der Trennungswoche, die Aufnahme hierzu erfolgte 2 Monate später. Denn nun wurde ihm wieder klar, welch wichtigen Bestandteil das Schreiben und Verpacken von Gefühlen und Gedanken in Form von Liedern in seinem Leben hatte. Dies wollte er um keinen Preis hergeben, weshalb in ein Mikrofon sowie das Aufnahmeprogramm Cubase investiert wurde. Zu diesem Zeitpunkt wohnte D-Nize mittlerweile in der Universitätsstadt Gießen, wo sein Studium zur Mathematik in vollem Gange war.

Ein Album wurde überlegt. Der Titel fiel nicht schwer. "Meine Träne" entstand über einen Zeitraum von 7 Monaten intensivster Arbeit. Bewusst ohne große Vorkenntnisse recordet und produziert , musste in diesen Liedern einfach alles raus, was sich festgesetzt hatte. "Meine Träne" ist eine sehr persönliche Platte, melancholisch angehaucht, weil nunmal diese Melancholie zu einem Begleiter wurde, die jedoch auch stets eine Motivation liefert.

Weiter im August 2014 entstehen neue Textideen zu den späteren Auskopplungen "Zeit " und "Was ist Glück?", sowie erste kleinere Auftritte zum Vortragen seiner persönlichen Lieder vor einem live Publikum. Die Resonanzen hierbei teilten sich, handelte es sich bei dem Stil doch nicht um den populären Straßenrap, so wurde doch stark deutlich, wieviel Herz im Spiel ist. Langanhaltende Depressionen beschäftigen den Musiker. Damals wie heute lässt sich dieser Fakt nicht in seinen Songs verbergen. Umkämpfte Gefühle und Niederschläge sind jedoch bis heute Teil seiner Inspiration. Das Lied "Wachanfall" umschreibt diese innere Unruhe. Weitere Werke folgten in diese Richtung. Aber das wissen seine Fans ganz genau. D-Nize öffnet mit jedem Stück nunmal seine "Herztruhe".

Aus dem heutigen Stand wünscht sich D-Nize als musikalischen Ausblick das Ausbauen seiner Fertigkeiten im Produzentengenre, ein Nebenjob im Jokus HipHop Studio ist bereits vorhanden. Ebenso will er sich in seiner stimmlichen Performance sowie lyrisch facettenreicher in die Zukunft orientieren.

ENGLISH
Yes, even if one can not tell him his Turkish roots, at first glance, who was born in Munich 1986 Deniz Burger aka D-Nize half and from bottom of my heart with the distinctive mentality is linked. This is reflected not only in his music again, and privately the charming young man is blessed by likability and empathy.

Through his friend Steven began D-Nize 2004 or in Munich express his person and important live near events and themes in texts that transformed itself after a few attempts in song and rap lyrics. Especially in the descriptions and stories of the rapper a deeper insight is to hear inside the people. First, even initially, early 2005 was the first complete written song. Based on the style of RnB was the song included "My Little Angel" with the webcam microphone. As with any artist at the beginning of his career, there was no advance yet to the necessary equipment, and other like-minded people to explore and exchange ideas and improve his skills were not to be found in the immediate vicinity. This did D-Nize not stop them from further out his inspiration and enthusiasm for texts. Thus, there will be many more small pieces that took each to a collection of lyrics together emerged. As of 2008, however, a move to Erlangen followed, unfortunately vanished even those initially irrepressible inspiration and the music was put on hold. Three years later the idea is taken up again to sort his thoughts recently on paper. In August 2011, the song "Part of me" arise (a song about his father) and "An American Crime" in a rough draft.

Two years later underwent D-Nize by the separation with his longtime girlfriend in August 2013 again a life-changing situation. Then came the first full song "Magic" in the separation week, recording this, carried out for 2 months later. For now he realized again how important component had writing and packing of feelings and thoughts in the form of songs in his life. This he wanted to give up at any price, was therefore invested in a microphone and the recording program Cubase. At this time lived D-Nize now in the university town of Giessen, where his studies to mathematics was in full swing.

An album was considered. The title was not difficult. "My Tear" was created over a period of 7 months of intensive work. Awareness recordet and produces no steep learning curve, had in these songs just about anything out what had set itself. "My Tear" is a very personal record, slightly melancholic because nunmal this melancholy became a companion, but also provides consistent motivation.

Next in August 2014, new text ideas to the later releases "Time" and "What is luck?", As well as first minor roles for reciting his personal songs in front of a live audience. The resonances in this case divided, it was in the style but not the popular streetrap, yet was strong clear is how much heart in the game. Prolonged depression employ the musicians. Then as now, this fact can not hide in his songs. However Umkämpfte feelings and rainfall are still part of his inspiration. The song "Awake dream" describes this inner turmoil. Other works followed in this direction. But knowing his fans exactly. D-Nize opens with each piece welcome to their "Heart Chest".

From the present state is D-Nize wishes as musical outlook that removing his skills in producer genre, a part-time job in Jokus HipHop Studio already exists. he wants to also be guided in his vocal performance and lyrically diverse in the future.

Türkce
.........
Diskografie
3347
mal aufgerufen
22:21:50
Stunden angehört
4819
mal angehört
Account melden