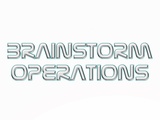 Lass mal hören!
Blog
4
Einträge
BrainStorm Operations
am 22.02.10 um 22:07
It's been a long time MoM....
That we've known each other. That goddamn yellow is still here. ;)
We've been through thick and thin together. We've seen so many talented artists come....and unfortunately go. MoM has gotten a lot better from features and functions...but the passion is somehow missing...it's very hard to explain.
We've grown so much, we've jumped by leaps and bounds in our musical development. In our...
mehr
BrainStorm Operations
am 29.12.08 um 00:25
Everything changes today:
With a new piece of equipment that we have.... it only gets betters boys. Wait until you see what we bring next. More info to come.
Cheers from the flight deck,
Keith & Sven
mehr
BrainStorm Operations
am 04.09.08 um 08:04
Sometimes the unbelievable happens
A few months ago, I wrote Jonn Serrie a thank you letter for all of the years of musical influence he has given me.
As of now we are putting the finishing touches on a track made especially for him in which he will collaborate with us on.
Yup... a collab with Jonn Serrie.
If we were Jazz musicians, this would be the same as me saying; we are recording a track together with Miles...
mehr
BrainStorm Operations
am 01.02.07 um 12:28
BrainSt0rms LIVE concept
Allow me to take you deeper inside of our planned performance. It is not only about the music that is performed…but an overall assault on the senses. We believe that the more we have an impact on ALL of the audiences' senses, the more it results in a longer lasting impression and desire to re-live the BrainSt0rm experience.
These results are achieved thru the usage of visual stimulation,...
mehr
Account melden